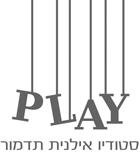 PLAY Studio was founded in 2005 by Ilanit Tadmor.
It specializes in Improvisation, Contact and performance arts. Its main goal is to provide the students with a platform for development and transformation through body work, movement and improvisation.
"Growth through motion" – this saying stands at the foundation of studio work, which combines contact and improvisation as tools for exploration, growth and development. Driving deep processes of change, Ilanit's unique teaching method is threefold: students work with themselves, with a partner, and with the environment.
Most of our students have little background in dance or movement, and in the studio they receive a wide array of skills and tools from dance training programs, which empowers them and strengthens their ability to deal with life-challenges.
Improvisation offers tools that can enable anyone to self-observe, to understand his or her limitations. From knowing one's limits, tools can be given for expanding and breaking through them, from the known and into the unknown, from habits to an expansion of possibilities.
The studio work is done on several levels simultaneously: Physical – fine-tuning the body by studying principles of movement from the world of dance; Mental – connecting the head and heart, reducing inner 'noise' such as criticism, and finding the middle-ground; Interpersonal communication – Opening new channels of expression for myself and with my partners.
The school combines a four-year improv-contact program with yearly courses, teacher's training program, workshops, jams, individually-tailored programs and more.
A community of dancing-people
In the studio, we often talk about the desire to connect people, to create a community of dancers. To live and behave in the same manner we learn to move and communicate in the studio, on the path of contact and improvisation – methods that change the way we listen to ourselves, our partner, and the environment.
Improvisation, as it is learned in PLAY, offers a different sort of communication, a communication based on looking inward, through body and motion. It can open new possibilities for anyone, in any stage of their lives.
Dance, according to Ilanit, creates healing in both body and mind, simultaneously. The expressive capability of our body is attuned and attached to both our physical and mental blockages. Once one of these is removed, change happens – in the way we move, in the way we dance separately or together. It's a dance that brings true joy and release. Natural, human, spontaneous movement into ourselves and onto others. It's a process that enables creative and communicative growth through movement.